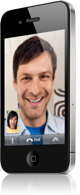 Apple introduced video calling with FaceTime when it released the iPhone 4. To this day I still hear various media outlets, bloggers and articles talking about how Apple's FaceTime is a neat feature but is "yet to be seen if it will catch on" or is a "novelty at best for now". Ahem… I beg to differ.
Until Apple introduces the ability to FaceTime with others on a PC using iChat or some equivalent Windows based solution then FaceTime will be less used for now for those who don't have a lot of friends or colleagues with iPhone 4's or new iPod Touches. I myself am seriously considering dropping my voice plan down a notch since seeing my voice minutes drop considerably since my FaceTime usage has increased the past few months. As of now I'd say 70% of the people I talk to on a regular basis, both family, friends and colleagues all now have iPhone 4's. My parents (who are die hard Verizon subscribers) will be getting an iPod Touch so we can talk for free for as long as we want over our WiFi signal. Currently I already use Skype for international conversations but once iChat supports FaceTime I'll be using it instead. Even at work I have face to face calls with colleagues and for some reason it's just so much more productive. I can hold pictures and diagrams up for them to see just like they were there in front of me. This past weekend I saw first hand all the new renovations a family friend had done to their house and it was utterly surreal.
FaceTime seems gimmicky at first glance I think mainly because it's such a natural progression in mobile communication technology. But the way it works is just so seamless and well done you don't realize just how useful it can really be.
Apple always introduces new products with a minimalistic approach and then ramps it up once it gains momentum. I can't wait to see what other new features we'll see with FaceTime in the near future. Novelty? Hardly!
---
---