It's here. Finally! I've been waiting for Doxie Go to be released and lo and behold, my first day at MacWorld and they show up right around the corner from the Printopia booth I'm helping man. (Shameless plug… if you haven't checked out Printopia check it out now… it won an Eddy last year!) I was lucky enough to be the first one to snag one and try it out.
Doxie Go is a wireless and portable scanner that redefines portable scanning with an eye for simplicity. With tethered or wireless models you'll no longer dread dragging out your clunky old flatbed scanner to scan in documents, receipts or photos. Once powered up (Doxie runs on USB and even has a built in battery good for about 100 scans) simply insert your document and Doxie Go will gently ingest your doc quickly and efficiently. Once you're done scanning simply plug in Doxie into your Mac with the included USB cable and fire up the slick Doxie app to send your document off to where it needs to be. Save it locally or send it Evernote, iPhoto, Flickr or many other possible cloud based destinations.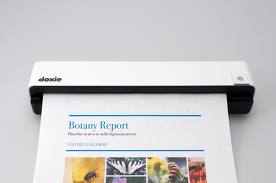 I won't be able to test out the WiFi scanning feature until I'm back on my home WiFi network (the hotel WiFi here doesn't seem to like non PC devices on their network) but the WiFi model includes a 4GB Eye-Fi card that slips into a slot on the rear of the Doxie Go. I'm assuming the flow would be similar minus plugging in the Doxie Go with the USB cable but I'll follow-up once I give it a go.
With 600 DPI resolution my scans seem to come in very clear and crisp. Photos looked very good and the included OCR capability did a very good job of converting docs with text in it to actual text.
Business cards were a different story however. I scanned in about 20 cards and about half did not auto crop correctly, usually over cropping it by about 50%. I'm hoping future updates to the software will fine tune that.
All in all though I'm very happy with the Doxie Go so far… it does what it advertises to fairly well and for anyone who just doesn't need multi sheet capabilities or double sided scanning and is looking for a scanner that's modern, slick, small and easy, Doxie Go delivers.
---
---