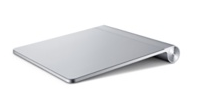 Apple released a slew of hardware updates today including updated iMac's and the massive 27″ Cinema Display. But perhaps the most interesting was the release of a new accessory, the Magic Trackpad.
The Magic Trackpad is quite simply a desktop version of the trackpad found in all of Apple's portable line up. This allows users of iMac's and Cinema Display's to take advantage of the scroll, swipe, pinch, and rotate features that laptop users have already grown quite used to.
The device is wireless, utilizing bluetooth for connectivity and boasts almost 80% more surface area than the normal embedded trackpads.
Mine's on order and should be shipping soon so stay tuned for a detailed review in a few days.
---
---