Ecamm today announced a new application that allows virtually any printer you can connect to your Mac to be shared via Apple's new soon to be released iOS 4.2 feature AirPrint.
Called Printopia, the software is nicely integrated into your System Preferences and quietly shares any printer you choose to wirelessly.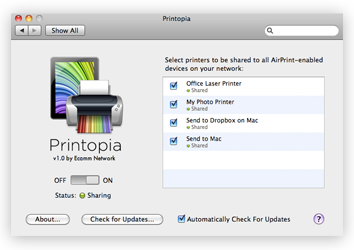 Once enabled you can simply print from your iPhone or iPad directly to your printer that is shared via Printopia.
In my testing using the GM release of iOS 4.2, Printopia worked flawlessly. Not only was I able to print to a printer attached by USB but also my printer that is shared via an Airport Express. Printing was pretty quick with no noticeable lag.
Two additional features that I expect to use as often, if not more than printing to a printer, is the ability to virtually print to a PDF or directly to my Dropbox share. Files sent to Dropbox appeared instantly in my root Dropbox folder and using the "Send to Mac" print option instantly popped up my document in Preview on my Mac. Very slick.
For $9.95 having the ability to print from my iOS devices to any printer I already have and any printer I will eventually purchase (whether it natively supports AirPrint or not) is a very small price to pay. Send to Mac and Send to Dropbox will come in very handy as well.
Download a demo copy now and try it out for a week and be ready to print once iOS 4.2 comes out any day now!
---
---